Queenstown NZ: Discover the Beauty and Gems
Queenstown is famous around the globe for being a gorgeous town set amongst the stunning Southern Alps and sitting on the edge of the South Island's Lake Wakatipu. It is renowned for both its beauty and its status as the Adventure Capital of New Zealand. Whether you want a relaxing holiday with unbeatable scenery or an adrenaline-fuelled trip to the South, just hop in one of our Queenstown rental cars and enjoy the gem that is Queenstown.
Seasons and Climate
The beauty of Queenstown is that it has four distinct seasons, offering a unique experience each time you come. Located towards the bottom of NZ's South Island, Queenstown has long, hot summers and cold winters. In summer, you'll want to jump in the lake to cool off, while in winter a snowstorm isn't out of the question. Autumn sees a stunning array of changing, colourful leaves while spring is a wonderful season to visit by offering comfortably mild weather and fewer tourists.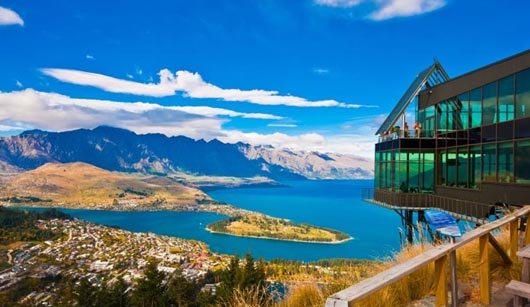 Most Beautiful Sights in Queenstown
It won't be very difficult to find stunning scenery on your trip to Queenstown. The city alone is beautiful, set on the edge of Lake Wakatipu with views of the mountains at arm's reach. To really make the most of the sights, try a Lake Wakatipu cruise, venture up the Skyline Gondola for a panoramic view from above or take your car rental for a scenic drive up The Remarkables.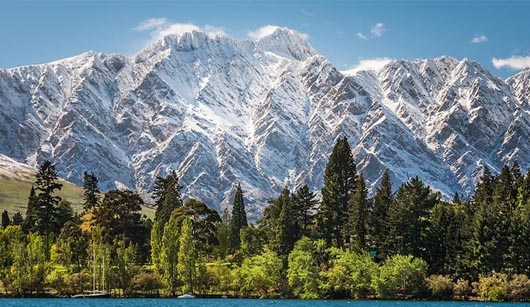 Adrenaline Junkie Activities
If you're heading to Queenstown for the adventure, you'll want to head to one of the city's bungy jumping options, like the original AJ Hackett Kawarau Bridge Bungy Centre or The Nevis Bungy with a 134-metre drop. Scare yourself on the world's biggest swing, The Nevis Swing, or a ridiculously fast jet boat ride with Shotover Jet. Many of these activities are out of town, so your best bet is to hire a car to tick a few of these off your list.
As a special offer for RaD customers, NZONE Skydive is offering a $25 free gift on completion of your jump and Skydive Wanaka can extend a $25 discount of the price of a 12,000 or 15,000ft tandem skydive. How awesome is that! Find out more about these great Queenstown added value offers here.
Make the Most of the Mountains
Whether arriving in winter or summer, Queenstown's mountains are a must-see. With its dramatic scenery and location among the Southern Alps, Queenstown is a mecca to any avid hiker. There are many trails, from Mt Crichton Loop track, perfect for beginners, to the intermediate Queenstown Hill Time Walk or the more advanced Moonlight Track. All are unique trails with the common thread of beautiful scenery.
If you want to carve the snow in winter, pack your gear into the car hire and head to one of Queenstown and neighbouring Wanaka's four ski resorts: The Remarkables, Coronet Peak, Cardrona and Treble Cone. Every local has their personal favourite, but you'll have a wonderful day skiing or snowboarding on any one of these local mountain ranges.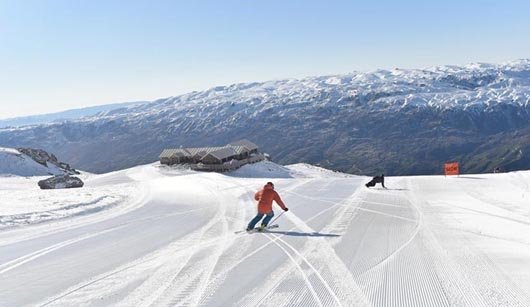 Best Places to Eat and Drink
With tourists ranging from backpacker to luxury travellers, Queenstown has a varied local food and drink scene. For upmarket dining try Rata, owned by a Michelen-starred chef. For dinner with a view, head to Ivy & Lola's Kitchen & Bar on Steamers Wharf. Perhaps the city's most famous food locales is Fergburger, a burger joint with a line snaking all the way around the block from open to close each day. There are excellent local cafés, like the legendary Vudu Café or Joe's Garage. Restaurants fill up, so book ahead.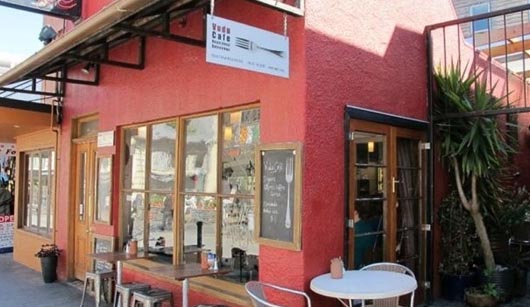 Our Top Accommodation Choices
With Queenstown an ever-popular destination in NZ, it's wise to book accommodation as far in advance as possible. Accommodation can run on the pricey side, but budget options like Air BnB and hostels do exist. For the ultimate in lakeside luxury, try LakeRidge or QT Queenstown. For more bang for your buck, consider staying in nearby Frankton, minutes from Queenstown Airport and just a short drive in the rental car to the city centre.