8 Tips for a Successful New Zealand Roadie
There's really no better way to explore New Zealand than to rent a car and travel around the country at your own pace. With endlessly stunning landscape between destinations, the drive is just as magical as the attractions.
To make the most of your Kiwi roadie, RaD Car Hire has put together 8 tips you might not have thought about: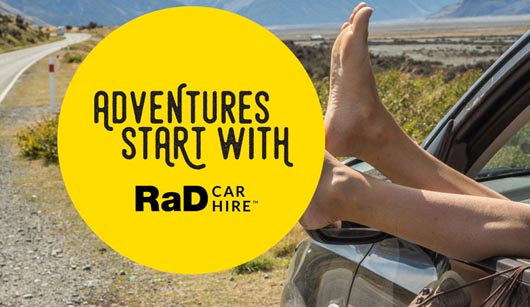 Pack Layers
Before you toss your bags into your rental car and head out on your New Zealand road trip, make sure you've packed plenty of layers. Even if you're driving around the country in the peak of summer, Kiwi weather is unpredictable. Cool summer nights, brisk sea breezes and nearby cyclones can mean the hot Kiwi weather suddenly plummets and you'll be glad to have a pair of longs in the car.
Sunscreen
If this is your first trip to NZ, you should know that the sun is awfully strong down under! The mercury might only reach 25 degrees, but the sun is incredibly powerful. And did you know that the pesky hole in the ozone layer hovers right above our little country? Trust us, you'll want a bottle of sunscreen in your bag, and another one in your car hire just in case.
Driving Distances
We may look small on the world map, but the distances between destinations can be long.
In NZ you'll rarely be driving your rental car as the crow flies and our winding roads can really lengthen your journey. Research driving distances and consider stops along the way.
Budget
New Zealand isn't the cheapest country to drive around in with petrol, food and accommodation all landing on the expensive side. Make sure to set an appropriate budget and spend carefully.
Getting your own rental car not only means you avoid hefty tour prices, but it also cut costs by giving you the freedom to shop at supermarkets and prepare your own food rather than eat out for each meal.
Tipping
While some things are expensive in NZ, one area where you can save is tipping your server. Unlike in many other countries, tipping is not the norm – keep your cash for an ice cream instead!
Tip Top
On that note…a Kiwi road trip is not complete without a Tip Top ice cream. Whatever coastal town you find yourself in, you'll never more than a short drive away from a dairy offering our staple creamy cones by the bucket loads.
Take Care in the Sea
New Zealand is surrounded by ocean and it certainly pays to treat it with respect. Be careful in the sea by checking the weather, packing appropriate swimwear, wearing a life jacket on boat outings, and being aware of tides and rips while swimming at the beach.
Plan Ahead
New Zealand has become a major tourist destination – we have millions of people visiting our shores each year yet only five million people living here! That means that it is a good idea to book accommodations and rental cars ahead of time.